Free of charge, and lots of fun, Music Unwrapped is a great way for the entire family to learn about a wide variety of music. Our Grammy Award-winning musicians present an entertaining and enjoyable learning experience, including interaction with the audience, which is suitable for all ages.

Experience intriguing programs throughout the year at community sites throughout Los Angeles County. Sign up for our email list (on the right side of this page) to receive notices of upcoming events.
Saturday, February 7, 2015, 4 pm
Music for Harp and Baritone
City Council Chambers
625 N. San Vicente Blvd.
West Hollywood, CA 90069
Directions

Friday, February 20, 2015, 11:45 am
Music for Harp and Baritone
Pasadena Senior Center
85 E. Holly St.
Pasadena, CA 91103
Directions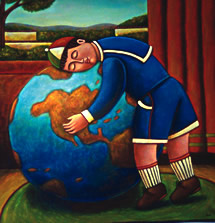 To prepare before
Music Unwrapped
, or follow-up afterwards, download our educational guide to enhance your experience.
Music for Harp and Tenor


Listen to Southwest
Join our Email List
share this page: