Who: Grammy® Award-winning Southwest Chamber Music, one of the premier chamber music organizations in the United States and based in Southern California, received a major grant from the U.S. State Department to produce the Ascending Dragon Music Festival and Cultural Exchange, the largest cultural exchange in history between the United States and Vietnam. Four composers-in-residence were appointed: Pham Minh Thanh and Vu Nhat Tan from Hanoi, Vietnam, and Alexandra du Bois of New York City and Kurt Rohde of San Francisco in the United States.
What: The Ascending Dragon Music Festival and Cultural Exchange consisted of six weeks of cultural exchange, three in Vietnam and three in the United States. 19 Americans traveled to Vietnam, and 19 Vietnamese traveled to the United States, participating in concerts, educational activities and cultural leadership workshops. Over 4500 audience members attended 12 Festival concerts in both countries, and 700 Los Angeles County children participated in school concerts featuring the Vietnamese musicians. The Ascending Dragon Music Festival celebrated the 1000th anniversary of the City of Hanoi.
When: The Ascending Dragon Music Festival and Cultural Exchange took place between February 27 and May 3, 2010. Six weeks of cultural exchange brought 19 Americans to Vietnam in March and 19 Vietnamese to the United States in April-May, each for three weeks. General planning for the project began in August 2008 and included an advance planning visit to Hanoi and Ho Chi Minh City in March of 2009.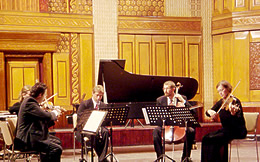 Where: 19 American musicians, composers and arts administrators traveled to the Vietnam National Academy of Music in Hanoi and Ho Chi Minh City Conservatory (Saigon) for performances, educational events, and administrative workshops. 19 Vietnamese musicians, composers, and arts administrators traveled to Southern California for performances, educational events and administrative workshops with Southwest Chamber Music and its partnering venues.
How: The U.S. State Department granted Southwest Chamber Music a highly competitive award to support a portion of the expenses of the project, designed to encourage new artistic and creative leadership in Vietnam through people-to-people exchange. Only two other grants in our category were awarded in 2008: University of Iowa and Carnegie Hall in New York.
Cultural Leadership Workshops involved all participants in workshops on arts administration, leadership and creativity, identifying best practices and ways in which cultural leadership can be mentored and facilitated. Hosted business and arts community workshops by the U.S. Embassy in Hanoi and the U.S. Consular Office in Ho Chi Minh City encouraged a wide range of attendance by business and arts organizations in Vietnam. Collaboration with the Drucker Institute at Claremont Graduate University featured an introduction to Peter Drucker's teachings and self-assessment tools. The Riordan Volunteer Leadership Development Program in Los Angeles facilitated discussion about its model leadership program that educates and trains business professionals for life-long service in the governance of nonprofit organizations.
Education and Community Events: American participants performed concerts and conducted educational sessions in both Hanoi and Ho Chi Minh City, including a joint improvisation at the Thang Long Art Gallery in Hanoi. Vietnamese participants performed concerts and educational activities in schools and at community centers throughout Los Angeles County. Concerts included "side-by-side" performances with both Vietnamese and American musicians. All participants enjoyed numerous cultural offerings in both countries. The Armory Center for the Arts also presented Ascending Dragon: Contemporary Vietnamese Artists, a group exhibition featuring the artwork of Vietnamese-born or –based artists, and artists of Vietnamese decent living and working in the United States. Exhibiting artists include Tiffany Chung, Vu Dan Tan, Phung Huynh, Pipo Nguyen-duy, Christine Nguyen, and Tam Van Tran.
Special events: Welcoming events in each country involved government officials with many special invited guests. The U.S. Ambassador to Vietnam hosted a reception in his residence in Hanoi, and the Vietnamese were officially welcomed to the United States by Pasadena Mayor Bill Bogaard in the Council Chambers of the City of Pasadena with a letter of welcome from Governor Arnold Schwarzenegger. A Southwest Chamber Music donor trip to Vietnam provided our supporters with exclusive "behind-the-scenes" opportunities to interact with all of the participants. Numerous fellowship opportunities occurred, including special meals unique to both countries and visits to cultural and UNESCO World Heritage Sites.