"Ascending Dragon" Centerpiece for Southwest Chamber at The Huntington
MUSIC REVIEW…
Saturday night at The Huntington was a hot, stifling time—even if you were out on the lawn. But, on occasion, a mild breeze crept over both the lawn and the covered Loggia of the famed art gallery, library and gardens, bringing at least temporary relief to the several hundred who attended Southwest Chamber Music's third of four summer concerts, and, of course to its musicians.
In spite of a temperature in the mid-80s, the musicians carried on as the talented and accomplished troupe they are to perform a perfect program that highlighted the calm and peaceful surroundings The Huntington provides.
Using a program of Claude Debussy and Maurice Ravel as bookends, Southwest Chamber presented Van Anh Vanessa Vo, a Vietnamese national treasure as a performer on traditional instruments of her Southeast Asian country, in two works on the dan bau, a one-stringed instrument that is plucked then key-changed while tightening the string with an attached bamboo stick.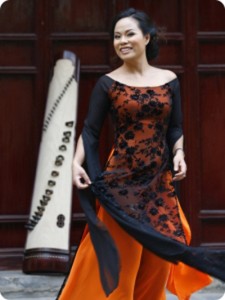 Stylishly dressed in a flowing orange gown, Vo moved slowly and elegantly between her dan bau instrument, three bowls I believe to be called singing bowls and a small hand-held gong. Her program of traditional Vietnamese folk songs has won national praise in her country as it has become a lost art but is now being resurrected but with some Western sensibilities. To Western ears the music is ethereal, and somewhat other-worldly; to Eastern ears, the music evokes an emotional passion. I clearly needed guidance.
As the centerpiece of the concert, Southwest Chamber Music conducted by the group's Artistic Director, Jeff von der Schmidt, musicians Lorenz Gamma and Shalini Vijayan, violins; Luke Maurer, viola; Peter Jacobson, cello, Tom Peters, double bass; and Kenneth McGrath, percussionist, joined Ms. Vo in a fine performance of "Ascending Dragon" the work composed by Vietnamese composer Pham Minh Thanh which was commissioned by Southwest Chamber as part of its State Department sponsored cultural exchange with Vietnam in 2010.
The ensemble carried the piece along displaying a strong collaboration in a persuasive performance dominated by the dan bau, pagoda bells, and wood blocks. Though inspired by Buddhism, composer Thanh has said the music is designed to, as he is quoted in program notes, "[create] the voice and the peaceful atmosphere that one can find in a pagoda in Vietnam." Southwest Chamber Music confirmed this with its sensitive playing.
Harpist Alison Bjorkedal, along with Lisa Edelstein and violist Maurer brought the watery solemnity of Debussy's Sonata for flute, viola and harp, a technically perfect, though not necessarily sweeping performance.
The concert concluded with Ravel's String Quartet in F-major in a strong reading of the quirky work. Gamma, Vijayan, Maurer and Jacobson gave it their all in spite of the warm and humid evening.
Southwest Chamber Music's Summer Festival at The Huntington presents its final concert Aug. 25 and 26 with the music of Ravel, Debussy, de Falla, and Mihaud with pianists Genevieve Lee and Ming Tsu. Soprano Suzanna Guzman will be heard in a medley of Edith Piaf songs.
By Bill Peters
Posted by
billpeters
on Aug 12th, 2012 and filed under
Reviews
. You can follow any responses to this entry through the
RSS 2.0
. You can skip to the end and leave a response. Pinging is currently not allowed.