Donors of $10,000 or more during the 2009-2010 season are invited to purchase a specially designed donor trip to Vietnam, and join in exclusive activities for donors only, including: (all activities subject to change)
• Travel on a specially designed tour package to Vietnam, including attendance at all concerts, educational and community activities, and special events listed below
• Receive a limited-edition, specially designed commemorative
Ascending Dragon
pin
• Attend an exclusive reception at the home of the U.S. Ambassador to Vietnam
• Meet elected officials in both countries at special events and receptions
• Observe closed rehearsals in Vietnam and the U.S.
• Attend rehearsals of newly commissioned works
• Observe side-by-side rehearsals and educational events at schools and community venues
• Tour important and innovative art galleries in Hanoi and Ho Chi Minh City
• Attend an exclusive reception at a leading art gallery in Hanoi
• Attend Cultural Leaders Workshops (not open to the public) in: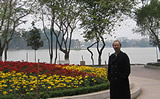 • Hanoi, hosted by the U.S. Embassy
• Ho Chi Minh City, hosted by the U.S. Consulate
• Claremont, hosted by the Drucker Institute
• Los Angeles, hosted by the Riordan Volunteer Leadership Development Program
• Attend exclusive receptions following concerts in Vietnam and the U.S.
Join all of the participants on special cultural trips to local area attractions such as:
• UNESCO World Heritage Sites
• Vietnamese Water Puppets
• Special meals and fine dining
• A Day in Santa Barbara
• Jazz club in Los Angeles
• Joshua Tree National Park
• Get to know all of the American and Vietnamese musicians, administrators and composers at all of the above events.
All of these benefits, and many more still to come, will make your generous support of Ascending Dragon the experience of a lifetime!
For list of donor benefits at various levels,
click here
. For more information on
Ascending Dragon
, our educational programs, the donor trip to Vietnam, or Southwest Chamber Music, please call us at 1-800-726-7147.